NOVEMBER 2018
MUCEAN SEMINAR – UNIVERSITAT AUTÒNOMA DE BARCELONA
Participating team members: E. Codó (Chair), M.R. Garrido, J. McDaid,  A. Patiño-Santos, E. Pladevall, A. Sunyol.
In November 2018 the APINGLO team organised the MUCEAN seminar at the Universitat Autònoma de Barcelona. The aims of the event were disseminating the findings and the conclusions of the research undertaken by the two teams of the APINGLO project (UAB and UCLM); and opening up a space to address issues regarding inequalities produced by processes of multilingualization of compulsory schooling around the world. It brought together researchers working in the fields of language policy, multilingual education, international education, minority language education, English-as-a-medium-of-instruction and Content-and-language-integrated-learning (CLIL), among others.
RESEARCH SEMINAR SERIES – UNIVERSITÉ DE LAUSANNE
Participating team members: E. Codó
Eva Codó was invited to give a lecture to MA students at the English Department of the Université de Lausanne, as part of the Research Seminar Series programme. She presented on "How English is Changing the Teaching Profession: Evidence from School Ethnographies in Catalonia".
JULY 2018
Participating team members: E. Codó
Eva Codó attended the 14th ALA (Association for Language Awareness) Conference, organised at Vrije Universiteit Amsterdam. She was invited to give a talk, titled  "Language awareness in multilingual and multicultural organizations, beyond Cultural Pedagogy".
JUNE 2018
SEMINARI ASSEMBLEA EDISO 2018 
Participating team members: E. Codó, M.R. Garrido
CUSC SEMINAR – UNIVERSITAT DE BARCELONA
Participating team members: A. Sunyol
A. Sunyol presented her doctoral research at the CUSC Seminar (UB) on the 22nd of June at 10am. She discussed the map of international schools in Catalonia and engaged in an illuminating data discussion with the participants. You can access a comprehensive summary of the session at the blog by the CUSC seminar here.
IV JORNADES XARXA CRUSCAT

Participating team members: E. Codó, A. Sunyol.
E. Codó and A. Sunyol presented the APINGLO research project at the IV Jornades XC, which took place at the Institut d'Estudis Catalans. During two days, researchers working for avariety of institutions (universities, public administration, policy makers) presented their ongoing sociolinguistic research. This meeting put forward the rich tradition of sociolinguistic studies among the catalan speaking communities. Contributions can be retrieved from here.
MAY 2018
VISITING PHD STUDENT
Peter Browning (UCL, Institute of Education) joined the Apinglo-CAT and CIEN team for a research stay, from May until July 2018. He presented his PhD project on the implementation of bilingual education policy in Colombia against the backdrop of the "post-conflict" society on the 7th of June at 11am  (Sala de Seminaris, Mòdul de Recerca A).
CONTEST "TESI EN 4 MINUTS"
Participating team members: A. Sunyol
A. Sunyol was among the UAB finalists of the "Tesi en 4 minuts" contest, organised by the Consell Interuniversitari de Catalunya. She gave a 4 minute speech on her PhD "Multilingualism, Elitism and Ideologies of Globalism in International Schools in Catalonia: an Ethnographic Study".

APRIL 2018
2nd WORKSHOP OF THE LANGUAGE AND WORK GROUP: LANGUAGE, WORK AND PRECARISATION
Participating team members: M.R. Garrido and A. Sunyol
M.R. Garrido and A. Sunyol participated and attended the workshop on Language, Work and Precarisation at the Institute of Education (University College London) where Garrido, a member of the Language and Work group, presented a communication on "Language and intersectionality: Arab female communicators in a humanitarian agency".
FEBRUARY 2018
CRELL/ENGLISH LANGUAGE AND LINGUISTICS GUEST LECTURE 
Participating team members: E. Codó
E. Codó was invited to give the lecture "A plus for our students": The construction of Mandarin Chinese as an elite language in an international school in Barcelona at the University of Roehampton (UK). Here is the lecture programme.
DECEMBER 2017
GUEST LECTURE AT 

CLCR Seminar 'BUreSeries
Participating team members: E. Codó
E. Codó was invited by the CLCR Seminar to give the lecture "Englishization policies and contemporary regimes of precarization: What educational ethnographies reveal" at Cardiff University.
SEPTEMBER 2017
RESEARCH STAY AT THE INSTITUTE OF EDUCATION (UCL)
Participating team members: A. Sunyol
 
JULY 2017
ACCEPTED PANEL FOR 15TH IprA WORLD CONGRESS
 Participating team members:  E. Codó, E. Moore
ACCEPTED PANEL FOR 18TH AILA WORLD CONGRESS
RESEARCH GRANT SEGIMON SERRALLONGA
Participating team members:  A. Sunyol
A. Sunyol received  the 10th Beca Segimon Serrallonga from the Ajuntament de Torelló. In the award ceremony, where she presented her project and the research conducted within APINGLO-CAT, the members of the committee highlighted the social impact of the project. The grant will allow her to conduct a research stay at the Institute of Education (UCL) during the fall of 2017, under the supervision of Dr. Miguel Pérez-Milans and Dr. Alfonso del Percio.
http://el9nou.cat/video/andrea-sunyol-guanya-la-desena-beca-segimon-serrallonga/
"CLIL IN MULTILINGUAL EDUCATION: FROM PRACTICE TO RECEPTION" 
Participating team members:  E. Codó, E. Pladevall, A. Patiño
Some of our team members contributed to the programme "CLIL in multilingual education: from practice to reflection", which opened the UCLM Summer Courses. This initiative brought together researchers in multilingual education; primary, secondary and tertiary education teachers and students with the objective to reflect on the implementation of the theoretical and methodological model of multilingual education known as CLIL. This course was directed by Ana María Relaño, the main investigator of our coordinated project APINGLO-UCLM.
MARCH 2017
RESEARCH STAY AT THE UNIVERSITY OF BUCAREST
Participating team members: M.R. Garrido
Maria Rosa Garrido did a stay at the University of Bucarest within the programme Swiss European Mobility. She taught an 18-hour cours on "Linguistic and Semiotic Aspects of Intercultural Communication" at the MA program on Intercultural Communication.
DECEMBER 2016
ORGANISING COMMITTEE AND PARTICIPATION IN COLLOQUIUM AT INSTITUTE OF MULTILINGUALISM, UNIVERSITY OF FRIBOURG
Participating team members: M.R. Garrido
Organising Committee and participation in Colloquium Les apports et limites de la recherche en sciences du langage à l'épreuve de questions socialement vives : Les enjeux langagiers liés aux réfugiés, Institute of Multilingualism (University of Fribourg).
NOVEMBER 2016

COORDINATOR OF 1ST LYON-FRIBOURG SOCIOLINGUISTICS SEMINAR AT UNIVERSITÉ DE LYON

Participating team members: M.R. Garrido
M.R. Garrido will be the Coordinator (with Kevin Petit, ICAR, Lyon) of 1st Lyon-Fribourg Sociolinguistics seminar Communication with institutions: The Importance of Being Earnest held at the Université de Lyon.
INVITED SPEAKER AT THE UNIVERSITÉ DE STRASBOURG FOR MA STUDENTS
Participating team members: M.R. Garrido
M.R. Garrido will be presenting her work on "Le mouvement Emmaüs: Ethnographie multi-site d'une expansion mondiale plurilingue". Her talk draws on a multi-sited ethnography on the Emmaüs movement in Barcelona and London, which explores the transnational articulation of a social movement through multilingualism.
OCTOBER 2016
INVITED SPEAKER AT INTERNATIONAL WORKSHOP ON EXPLORING TRAJECTORIES AT UNIVERSITY OF LUXEMBOURG

Participating team members: M.R. Garrido
M.R. Garrido will be an invited speaker to International workshop on Exploring trajectories: Transitions and transformation, University of Luxembourg. Her talk being: Humanitarians on the move: A historicising perspective on sociolinguistic trajectories of delegates at the International Committee of the Red Cross.

JULY 2016
PARTICIPATION IN "ETHNOGRAPHY, LANGUAGE AND COMMUNICATION" AT KING'S COLLEGE LONDON
Participating team members: A. Sunyol
A. Sunyol has attended the course "Ethnography, Language and Communication" lead by Professor Ben Rampton. The course is an introduction to key perspectives and tools used to study language and communication ethnographically and it facilitates the study of social practice in a wide range of different settings, such as education.

INVITED TALK: "DEVELOPMENTAL ASYNCHRONY IN THE ACQUISITION OF SUBJECT PROPERTIES IN CHILD L2 ENGLISH AND SPANISH", UNIVERSITY OF READING
Participating team members: E. Pladevall
On the 6th of July E. Pladevall was invited to give a talk at the University of Reading as part of the activities of her research stay at the University of Southampton.  Below is the abstract of her talk:
It is a well-known fact that children acquiring a null-subject language like Italian or Spanish produce null subjects apparently consistent with the target grammar from early on whereas children acquiring a non-null subject language such as English or French exhibit persistent non-target subject drop in root positions past their third year. The present study aims at determining to what extent the pattern of acquisition of Spanish and English subjects observed in L1A can also be seen in child L2A in bilingual immersion settings where English and Spanish are both source and target languages and whether it extends to the subject properties at the syntax-pragmatics interface. Using an elicited oral judgement and correction task, L1 English/L2 Spanish and L1 Spanish/L2 English five-year-olds with the same age of onset, namely three, are compared in their judgements of purely syntactic subject properties and discourse constraints on subject use. Results suggest that there is developmental asynchrony and that markedness effects might explain why L2 Spanish children generally display significantly more target-like judgements than the L2 English group.
 RESEARCH STAY AT SOUTHAMPTON UNIVERSITY
Participating team members: E. Pladevall
Elisabet Pladevall is doing a two-month research stay at the Department of Modern Languages at the University of Southampton, UK. She is working within the Centre for Linguistics, Language Education and Acquisition Research, led by Professor Roumyana Slabakova. She will be analysing data collected in CLIL and EFL courses and writing up some papers. She will also give a number of talks at the University of Reading and at the University of Southampton and hold meetings with PhD students and faculty members of the Department of Modern Languages. She will also have the opportunity to work with one of the members of our project, Dr Adriana Patiño.
JUNE 2016
ELF9 "9TH INTERNATIONAL CONFERENCE OF ENGLISH AS A LINGUA FRANCA" BEING HELD AT UNIVERSITAT DE LLEIDA
Participating team members: E. Codó; A. Patiño;
E. Codó and A. Patiño presented their paper '"GEP is for masochists!" Language, labour market and inequality in a Catalan secondary school' at the 9th International Conference of English as a Lingua Franca, which is being held at Universitat de Lleida. Two members of the coordinated project APINGLO-CLM, A. Relaño and A. Fernández, also presented a paper  titled "A language socialization perspective to teacher partnerships in bilingual schools in La Mancha" based on their current work on bilingual schools in La Mancha within the same panel.
APRIL  2016
INVITED SEMINAR: "ENGLISH, A PENDING SUBJECT IN TEACHER TRAINING?" 
Participating team members: E. Codó
E. Codó was invited as an expert on sociolinguistics by the MIF Programme, a programe that contributes to the improvement and innovation in teacher training, which held this seminar at the Faculty of Education of the Universitat Autònoma de Barcelona. The aim of this panel session was to evaluate  a report made by a group of experts on the role of English in the education of future teachers.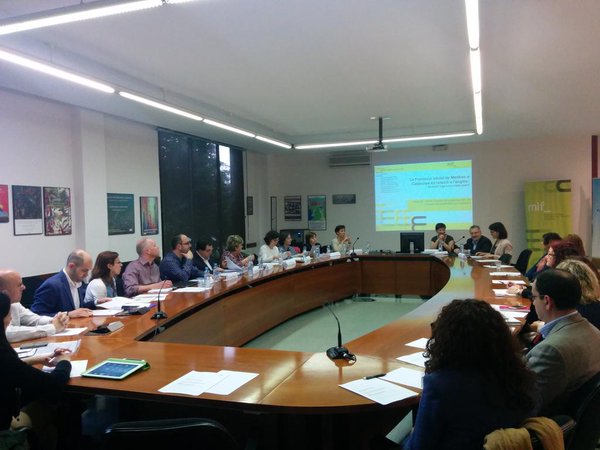 VISITING PROFESSOR AT SPRING SCHOOL 2016: "WRITING LANGUAGE IN SOCIETY", UNIVERSITY OF FRIBOURG 
Participating team members: E. Codó
E.Codó was invited by the Institute of Multilingualism at the University of Fribourg/Switzerland as a visiting professor to participate in the residential workshop/Spring School "Writing Language in Society". The Spring School was funded by Conference of the Rectors of Swiss Universities (CRUSSwissuniversities) as part of the doctoral program Multilingualism: Acquisition, Education, and Society led the University of Fribourg and was held from April 11 to 15 in Muntelier, Switzerland. The event was both attended by students enrolled at universities in Switzerland and abroad. As part of the Spring School, Prof. Codó held a lecture and organized a workshop on publishing in academia. Furthermore her appointment included the preparation of reading lists for the workshop, individual consultations with PhDstudents as well as the discussion of student's work samples.
FEBRUARY  2016
INVITED SEMINAR "RESEARCH METHODS IN LANGUAGE EDUCATION: ETHNOGRAPHIC PERSPECTIVES" UNIVERSITÉ DE LUXEMBOURG             
Participating team members: E. Codó
 E. Codó and A.M. Relaño-Pastor (from the coordinated UCLM team) gave seminar in which they discussed the different ethnographic perspectives adopted in three of the most influential paradigms in language education research, namely, Linguistic Ethnography (LE) (Rampton, Maybin & Roberts, 2014), Linguistic Anthropology of Education (LAE) (Wortham & Rymes, 2003) and Language Socialization (LS) (Duranti, Ochs & Schieffelin, 2012). They focused on the theoretical and methodological underpinnings of these three traditions and what they may offer to an understanding of language policy and language use in educational contexts. The seminar was followed by a hands-on data session.
INVITED SEMINAR "MULTILINGUALISM, ELITISM AND IDEOLOGIES OF GLOBALISM IN TWO INTERNATIONAL SCHOOLS IN CATALONIA: AN ETHNOGRAPHIC STUDY" – STOCKHOLM UNIVERSITY             
Participating team members: A. Sunyol
A. Sunyol gave a seminar at the Centre for Research on Bilingualism of the University of Stockholm in which she discussed her research on the linguistic construction of elitism and globalism in International schools in Catalonia.
NOVEMBER 2015
INVITED TALK AT THE CATALAN SOCIOLINGUISTICS SOCIETY (INSTITUT D'ESTUDIS CATALANS) – NOUS TALENTS DE LA SOCIOLINGÜÍSTICA CATALANA
Participating team member: A. Sunyol
On 19th November, A. Sunyol presented the results of her MA Thesis on "Multilingualism in an International School in Catalonia: An Ethnographic Study"  to the Catalan Sociolinguistics Society. Her talk was very well received.
INVITED SEMINAR ON CLIL TRAINING COURSE FOR SECONDARY SCHOOL TEACHERS UNIVERSITÀ CATTOLICA DEL SACRO CUORE, MILAN (ITALY)
Participating team member: E. Pladevall
From 15th to 19th November, E. Pladevall gave a Seminar on CLIL to in-service Italian secondary school teachers. She discussed different aspects of the implementation of CLIL in Catalonia and Spain at large. This seminar was part of the "Corso di Perfezionamento CLIL" organised by the Servizio Formazione Permanente of the Università Cattolica del Sacro Cuore, Milano.
OCTOBER 2015
Participating team member: E. Moore
On 27th October 2015, Emilee Moore gave a presentation as part of the 2015 Urban Education Lecture Series at the CUNY Graduate Centre, New York, during her three month visit in the Urban Education program. She presented the research she has been carrying out with colleague Claudia Vallejo (GREIP research team) in an after school literacy program in Barcelona for children considered to be at risk of school failure. her presentation was entitled "Practices of conformity and transgression in an out-of-school reading support programme"
SEPT – DEC 2015                                                                                                          
RESEARCH STAY AT CITY UNIVERSITY NEW YORK (CUNY)       

              
Participating team member: E. Moore
E. Moore was at the CUNY Graduate Centre (New York) as a visiting scholar from September until December 2015, within the PhD Program in Urban Education supervised by Prof. Ofelia Garcia, who is internationally renowned for her work on bilingual education policies and practices. Emilee also participated in activities organised by the CUNY-New York State Initiative on Emergent Bilinguals, a project that involves working with schools on developing practices that promote students' entire communicative repertoires as resources for their learning. Finally, Emilee was involved in the Futures Initiative together with Prof. Garcia's doctoral students, a project advocating greater equity and innovation in public higher education. The class carried out multi-sited ethnographic work on CUNY campuses focusing on how linguistic diversity is made visible or otherwise and how that relates to life beyond university. Emilee's stay in New York was financed by a grant from the Societat Econòmica Barcelonesa d'Amics del País.
SEPTEMBER 2015                                                                                             
PARTICIPATION IN RESEARCH SEMINAR                                                     
Participating team members: M.R.Garrido
M. R. Garrido participated in the Seminar "New speakerness: epistemics, positioning and struggles for legitimacy in interaction" at the University of Surrey (UK), organised by the COST Network  New Speakers in Multilingual Europe. She presented a paper on new speakers and migration in social activism in which she analyzed the trajectories of language learning of two activists at Emmaus Barcelona by means of interactional, declarative and ethnographic data.
More information on the seminar:

JULY 2015
SEMINAR TAUGHT AT JUNIOR UNIVERSITY, UNIVERSITAT DE VIC
Participating team members: E. Moore & M. Rosa Garrido
E. Moore & M. R. Garrido taught a course on Hip Hop and Rap as part of the Junior University at the Universitat de Vic in July 2015. In their session, they led a group of adolescents in understanding and analysing a well-known rap by Eminem, as well as in writing and performing their own raps on the theme of 'opportunity'.
JULY 2015
TEACHER TRAINING COURSE GIVEN AT ROSA SENSAT SUMMER SCHOOL
Participating team members: M. Rosa Garrido & E. Moore
M. R. Garrido & E. Moore taught a course on Rap in the Classroom and Hip Hop Pedagogies coordinated by Cristina Aliagas, Júlia-Alba Fernàndez i Gaià and Pau Llonch as part of the Rosa Sensat summer school. The course aimed to discover the potential of rap music in elementary and secondary school classrooms for connecting with the curriculum. The session presented by Maria Rosa and Emilee focused on their experience in the Campus Itaca socioeducational project over the last 3 years, where they aim to empower youths' plurilingual repertoires though language biography raps.
JULY 2015
WORKSHOP TAUGHT AT CAMPUS ÍTACA, UNIVERSITAT AUTÒNOMA DE BARCELONA
Participating team members: E. Moore & M. Rosa Garrido
E. Moore and M. Rosa Garrido ran several two-hour "English language" workshops inspired by plurilingual didactics and Hip Hop pedagogies. The workshops aim to empower students' plurilingual repertoires through language biography raps as opportunities for self expression and social critique.
Campus Itaca is a semi-formal programme at the Universitat Autònoma de Barcelona for students who are going into their final year of secondary education and who are categorised by their schools as not having an academic profile, and who might thus not continue their education into pre-university and university studies for an array of reasons. These include adolescent disaffection for schooling as well as coming from family backgrounds in which university studies might not be a realistic option (e.g. students whose parents and grandparents did not attend higher education, students for whom university is financially not viable). Campus Ítaca aims to stimulate these adolescents to continue to non-compulsory education, while also aiming to promote Catalan as a vehicle for group cohesion and social inclusion, since many of them come from non-Catalan dominant environments.